Anastasia Ovchinnikova was born and raised in Krasnodar, Russia, where she studied art at Kasnodar State University before working as a teacher and a designer. In 2006, she embarked on a career in the gaming and interactive entertainment industries, providing artwork for mobile and social media games like Legend of the Cryptids and Galaxy Saga. Her work eventually caught the eye of Jeremy Jarvis, senior art director for Wizards of the Coast, who commissioned her to provide alternate artwork for Prophet of Kruphix for the M15 Clash Pack and for the Tarkir block.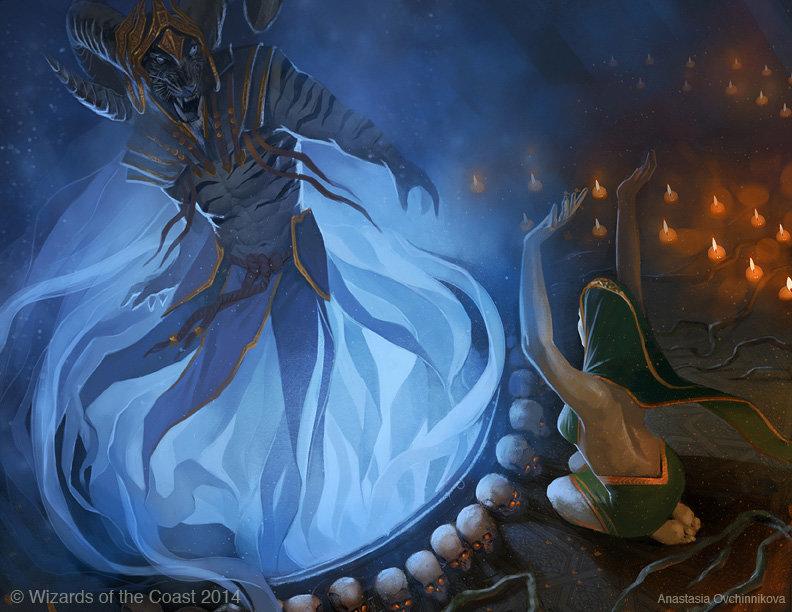 Despite her short time with Wizards of the Coast, Anastasia made a huge splash Jan. 28 when the short story "The Truth of Names" was published on Magic's official website. That's because Anastasia had provided the artwork for Magic's first-ever transgender character, Alesha, Who Smiles at Death. Suddenly, the Magic multiverse had become a lot more inclusive!
Although Wizards' nondisclosure agreement prevented Anastasia from talking about Alesha until after the release of Dragons of Tarkir, the artist, who is now based in Montreal, was happy to speak to Art of MtG this past month about her landmark creation.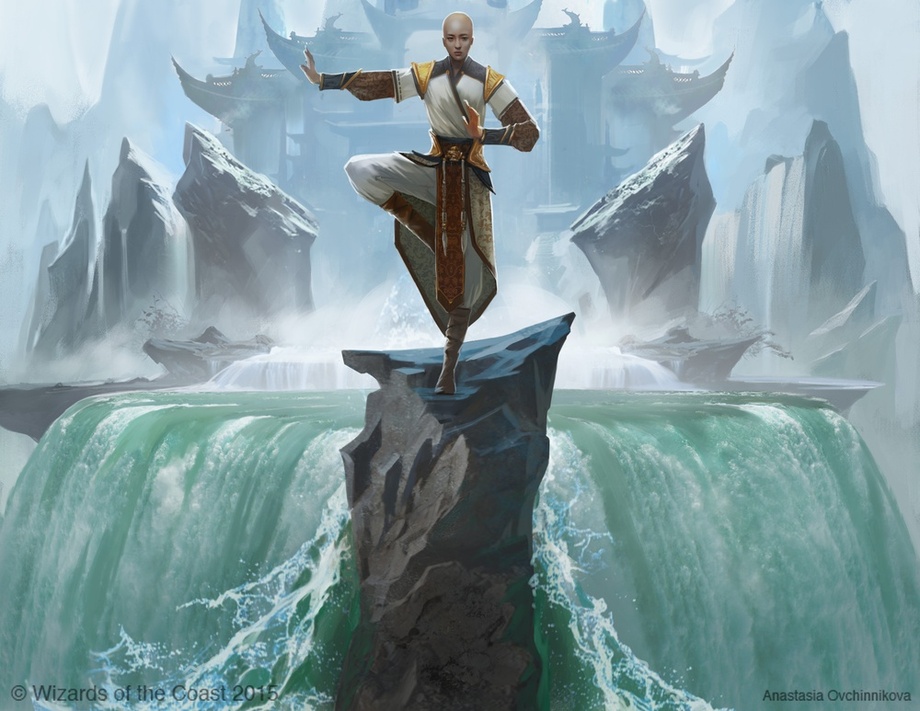 Art of MtG: Alesha, Who Smiles at Death is obviously very special for Magic: The Gathering since she is the game's first transgender character. How much did you know about Alesha when you were given the assignment?
Anastasia: Usually I receive a brief describing in a few words the story and what should be depicted. It was the same with Alesha. Wizards of the Coast gave me key words and what kind of feeling should evoke the illustration.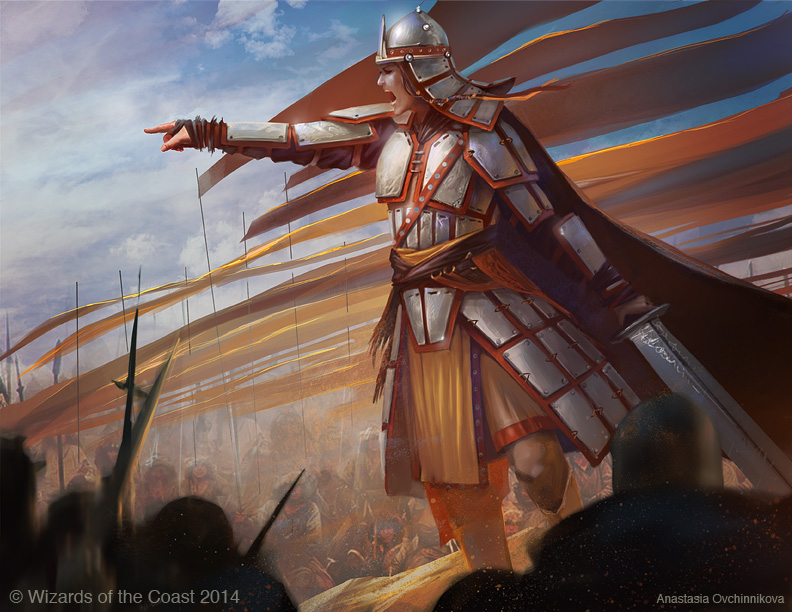 Art of MtG: Do you remember what that brief said?
Anastasia: I can't release Alesha's full art description; it's still closed information. Sorry about that.
Art of MtG: I understand completely. In looking at your primary artwork for Alesha, there's feminine touches to the character, but there's also a definite sense of strength. How did you approach the illustration?
Anastasia: Honestly, it was very difficult for me to approach this feeling. I tried to use all the knowledge I have: I added flying banners in the background so it gave a strong feeling that Alesha was standing against a powerful enemy. She is a leader; everyone is looking at her. And at the same time she holds a sword with a wide blade that contrasts with her thin body. She holds the sword with her bare hand, and her pointing hand looks so unprotected and fragile. I was trying to make Alesha strong and slight at the same time.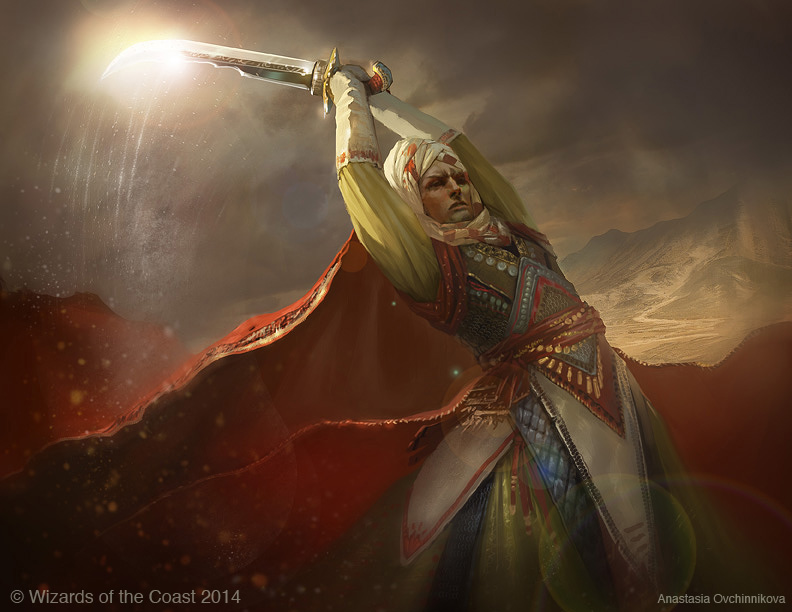 Art of MtG: In general, why do you think it's important for game designers and artists — and not just those working on card games — to include characters of more diverse backgrounds?
Anastasia: In my opinion, it's a natural way to create a world. Here, in the real world, everybody is so special, so different, and everybody can be a hero. I think diversity makes the fantasy world more believable. And it would be awesome if everybody could find his or her own reflection in a story he or she loves. 
Art of MtG: In addition to your work on the Tarkir block, you also did a beautiful alternate art piece for the M15 Clash Pack version of Prophet of Kruphix. Can you tell me a little more about this piece?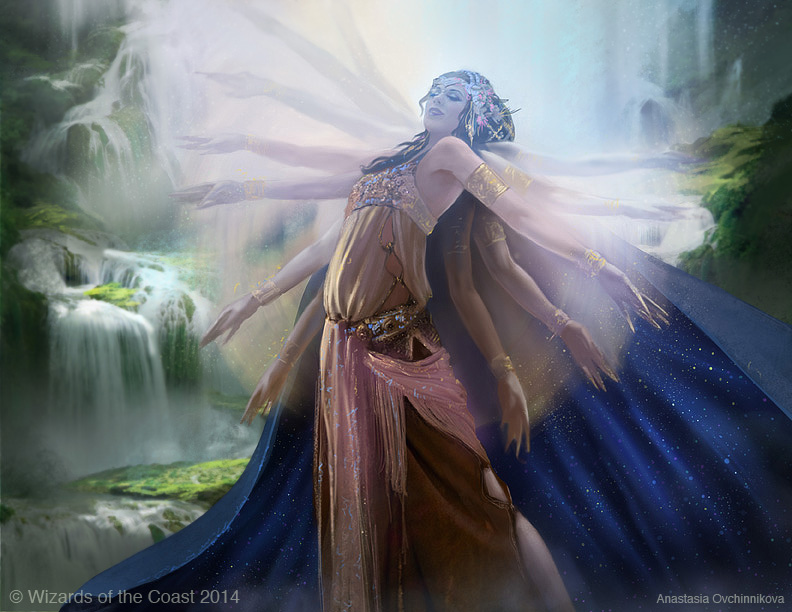 Anastasia: Prophet of Kruphix was one of the first cards I worked on for Magic: The Gathering. It was very challenging for me. But luckily, it was one of those illustrations that came together painlessly, that moved smoothly.
My work process is always the same: At the beginning I search for a good reference and do some pose studies. Then I create two or three sketches and send them to the art director. After approval, I begin polishing and finalizing the illustration.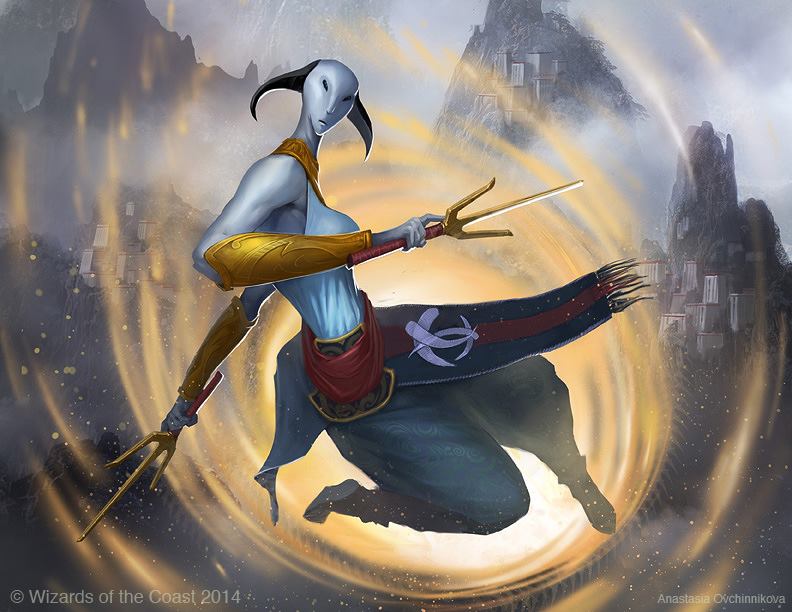 Art of MtG: Will you continue to collaborate with Wizards of the Coast now that the Tarkir block is complete? Can you tell us anything about what you'll be working on next?
Anastasia: I'm still working with them, and I can tell you that Wizards of the Coast is preparing so many interesting stories. You'll be surprised!
Art of MtG: Finally, how can fans keep in touch and follow you work?
I have galleries on Art Station and Deviant Art. Also, if anybody is interested in prints, I'm selling my illustrations on InPrint. 
Patrick Scalisi is a contributing writer to Art of MtG. After playing Magic: The Gathering as a child during the Fourth Edition era, he resumed again in the summer of 2012. He currently prefers red and white decks.