A self-described lover of dark fantasy, Magali Villeneuve has developed an impressive résumé in the eight short years that she's been working as a professional illustrator. Based in France, Magali has produced artwork for a tremendous number of licensed properties, including The Lord of the Rings, Star Wars, George R.R. Martin's A Song of Ice and Fire, and, of course, Magic the Gathering.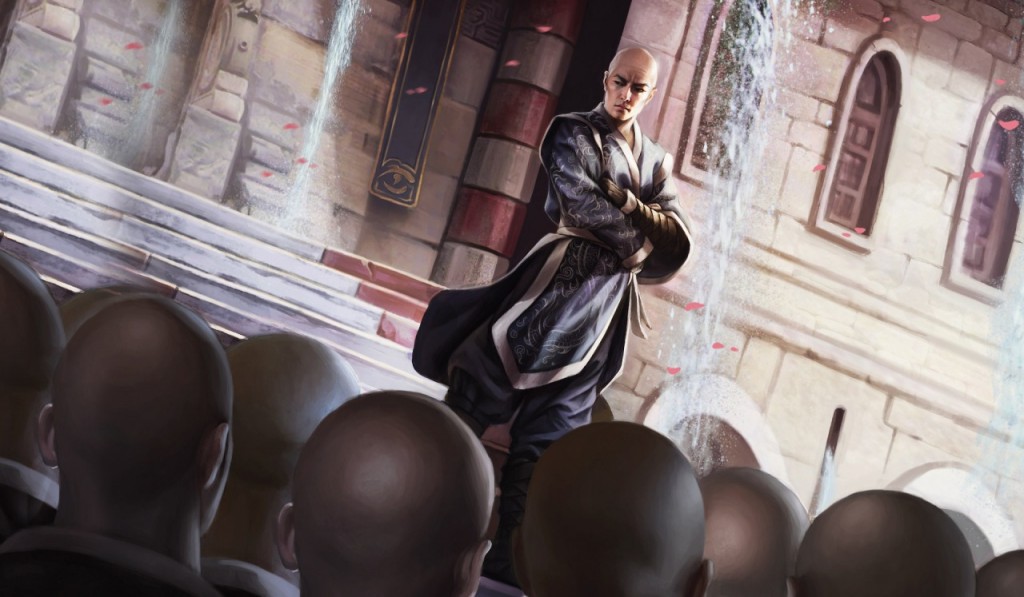 In this latter regard, Magali has carved out a wonderful niche for herself in the brief span that she's been working with Wizards of the Coast. Pairing her remarkable command of human expression with beautiful representations of nature — think Quiet Contemplation or Sylvan Safekeeper — Magali's artwork captures the more intimate moments of the Multiverse that are often lost in epic battles, spell explosions and board wipes.
And as if her artistic talent wasn't enough, Magali is also a well-regarded writer in her native France, where she is the author of the La Dernière Terre (Line of Descent) fantasy series!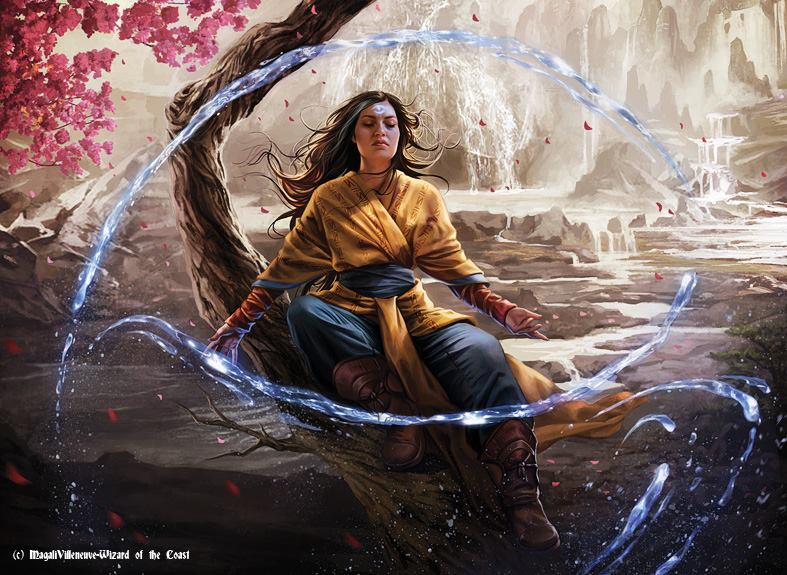 Art of MtG spoke with Magali via email about her latest contribution to Magic — the new Planeswalker Narset, whom Magali originated in Khans of Tarkir.
Art of MtG: You're a relatively new artist for Wizards of the Coast, having started with the 2013 Commander set. Tell me a little about how you got started working on Magic: The Gathering.
Magali: Pretty simple, actually: I sent my portfolio to Wizards of the Coast. Shortly after, I received my first assignment. I was thrilled!
Art of MtG: According to your portfolio, you celebrated eight years as a professional illustrator last August. Congratulations! During that time you've worked on a great number of games for such famous properties as Magic, Star Wars, The Lord of the Rings and Game of Thrones. Do you have a favorite universe you like to illustrate and why?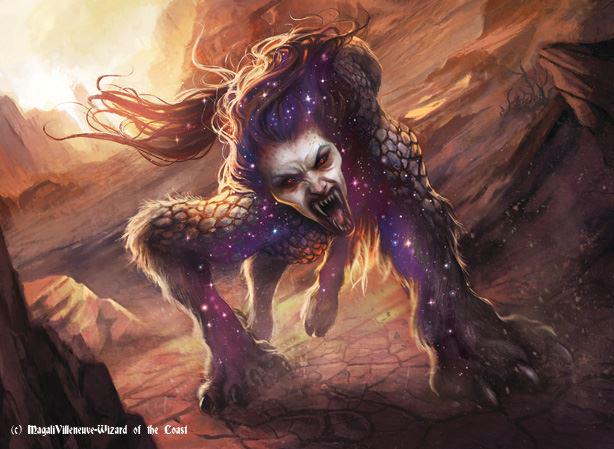 Magali: I'm lucky enough to be working on all of my dream universes. When I started as an illustrator, I would never have believed it if someone told me what would be keeping me busy a few years later.
All universes have a special place in my heart: I've painted hundreds of pieces for The Lord of the Rings, some of which I consider my best to date. All of these pieces made me grow as an illustrator and helped me improve my skills for characters and costume design.
A Song of Ice and Fire was one of my two "ultimate goals" when I was younger (the other one was Robert Jordan's The Wheel of Time). I had secretly promised myself I would fight very hard to be officially illustrating for one of these book series someday. ASOIAF kind of feels like home to me — I'm a dark fantasy girl at heart!
As for Star Wars, it also has a special place. It was totally out of my comfort zone at first, and I had to push my boundaries to be (hopefully) worthy of this tremendous legacy. I've been helped a lot by the trust that my art director at Fantasy Flight Games, Zoë Robinson, placed in me. She thought I could do it, so I blindly believed her!
That's also why I can't really choose. All these universes lead me to incredible projects and allowed me to meet wonderful people that I'm so lucky to be working with today.
Art of MtG: Thinking about Magic: The Gathering specifically, you were asked to originate the character of Narset. Tell me a little about your approach to her.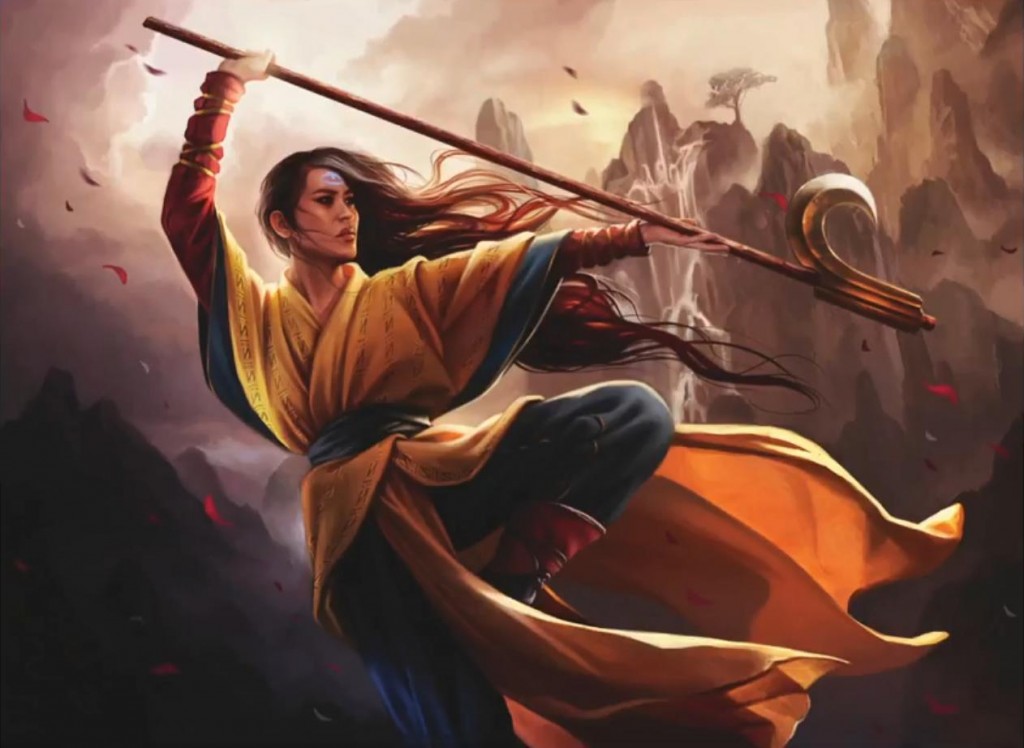 Magali: As usual, I had WotC's creative brief. It asked for a "glamour shot of Narset, the legendary warlord and master-monk of the Jeskai clan." Her "key words" were grace, cunning and discipline.
That's enough to set fire to any illustrator's imagination! I love painting women and always have. AND I'm very serious about depicting credible female figures. I like to show that beautiful doesn't necessarily mean sexy, that sexy doesn't necessarily mean vulgar, that strong doesn't necessarily mean aggressive (besides, that's also true for my work on male characters).
I guess that's my approach: I'm trying to put a believable spark of life in the characters I paint. Expression, movement, lighting, costume — everything counts, and I pay loads of attention to all of these details.
Art of MtG: How much did you know about Narset when Wizards asked you to illustrate her? Was it exciting to get an assignment to illustrate a Planeswalker?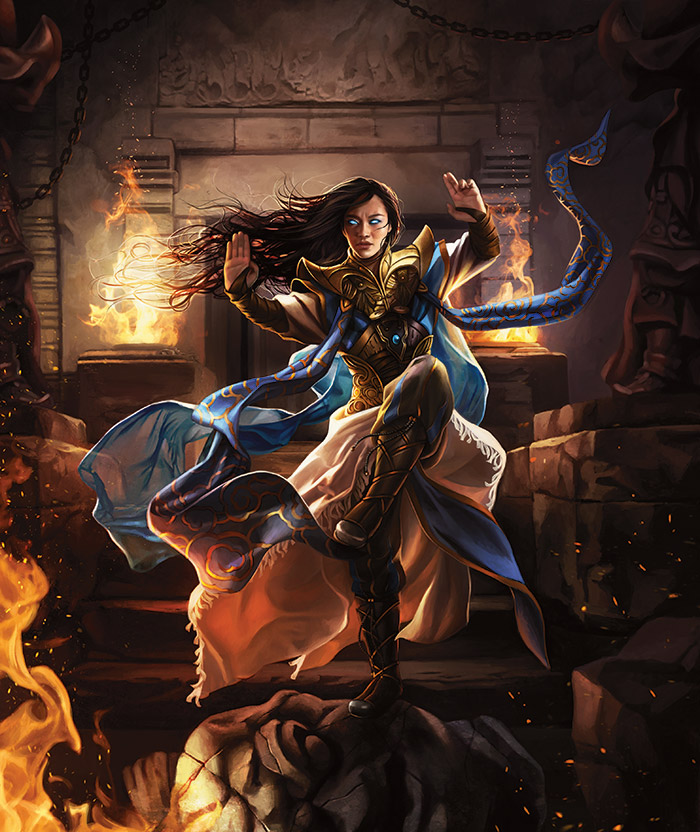 I knew nothing except that she was a legendary creature and, of course, what I was given in the brief. But I was not given any specific background. I didn't know where she came from or what her destiny would be.
Finding her as a Planeswalker in my inbox was one of those over-the-moon moments. I may not be a huge expert at Magic, but I still know what Planeswalker means! I was already very proud to originate her in the Narset, Enlightened Master piece. When I started working on the Narset Transcendent piece, I really thought it was not the right moment to make a mess! Being given the chance to paint a Planeswalker made me feel very lucky.
Art Description:
Setting: DRAGONS OF TARKIR
Clan: Ojutai (WU)
Color: White-blue Planeswalker
Location: Underground, bright torchlight, in front of the "Dragon Doors" shown in Fate Reforged
Action: This is a portrait of NARSET, who in this timeline is not the khan of the Jeskai clan but has followed a different path. Having reached true enlightenment, her spark ignited, and she is now beginning to explore what it means to be a Planeswalker. With the ascension of the dragonlord Ojutai, she has undertaken to wander the world. Now she is at the Dragon Doors that guard a repository of ancient lore. The doors are open.
Start with the image of Narset in the Khans of Tarkir world guide. Instead of the clothing she wears there, use updated Ojutai-clan garb something like that shown in the DTK world guide. It should have interesting, unique details, such as embroidered symbols (no real-world iconography please.) She strikes an impressive kung fu pose, balancing on one foot on top of a crumbled Dragon Door guardian. Try to use a different pose from her previous appearance. She no longer has the Jeskai Eye marking on her forehead; instead her eyes glow with mystical blue-white light.
Focus: Narset
Mood: I have discovered secrets within me, and they have led me to more secrets.
Art of MtG: For Commander 2014, you also illustrated another famous character from Magic's past: Titania, Protector of Argoth. What was this assignment like? Were you given a lot of "homework"?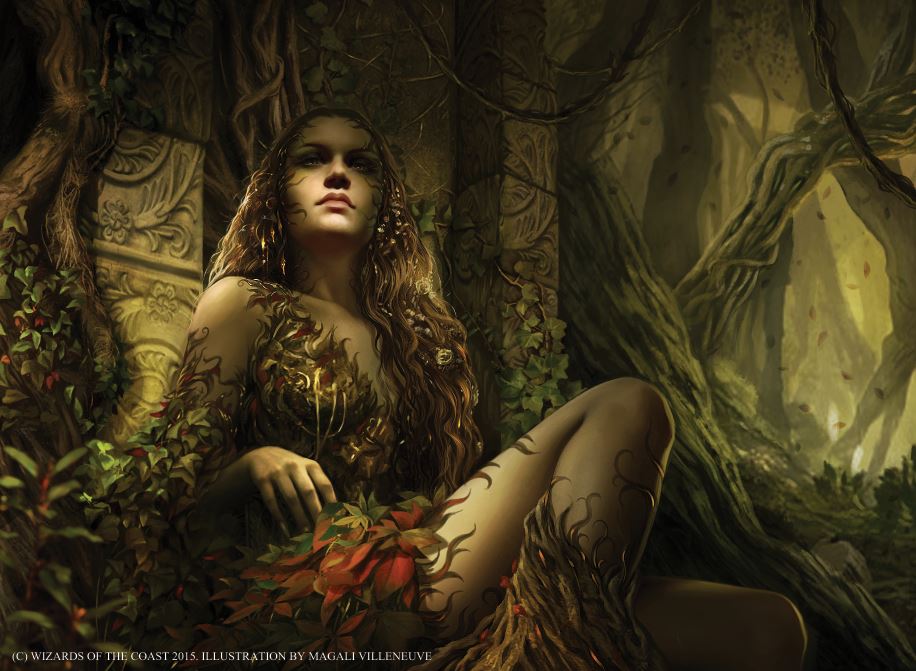 Magali: The assignment was very precise for her, probably the most descriptive I've had to date, which made things very easy for me. It talked about her being an elemental and insisted that she should really look as though she was one with the nature around her. As if she was taking form from ivy, roots, foliage. I also loved the part saying that she shouldn't look frail. She had to look strong, almost threatening. The "mood" indication for her was: "You dare enter my domain?" That is saying a lot about the character.
I had a blast working on her, and I felt I could create "something else," despite the fact that a previous version existed. My style being very different from the former illustrator's made it obvious that I was not expected to do likewise.
Art of MtG: Will you continue to do work for Wizards of the Coast once Dragons of Tarkir comes out? Can you tell us anything about what you'll be working on next?
Magali: I've already done work on many pieces that will be released in upcoming expansions. That's how it always is with collectible card games: You work about one year ahead of the actual release date. And we're expected to be very careful not to let anything leak out! So, of course, you won't know anything about it, which gives you the right to hate, of course! [Laughs]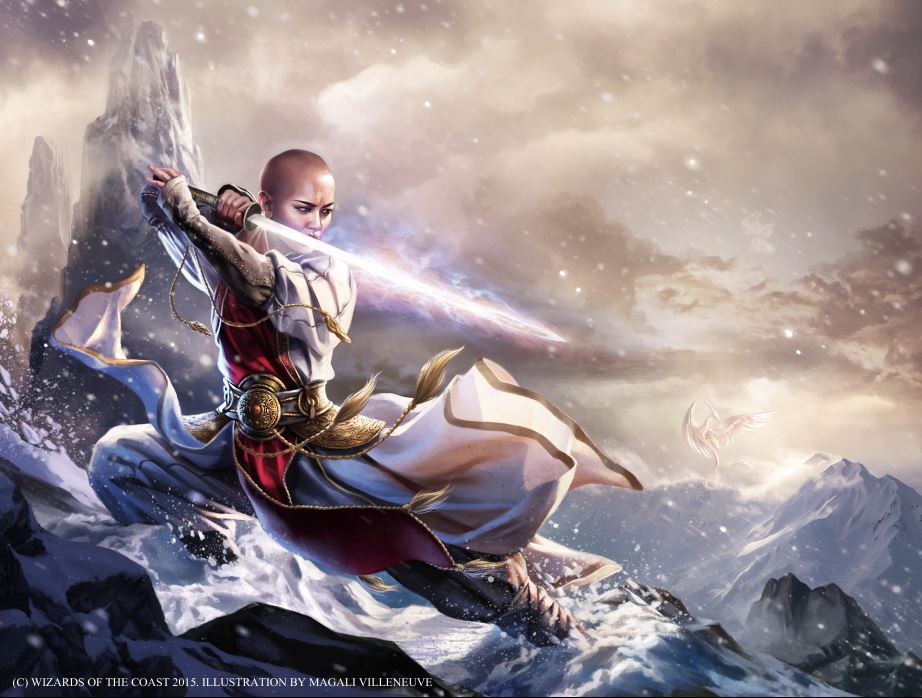 Art of MtG: Well, it's great to hear that we'll continue to see your art as part of the game. The last thing I want to ask is how fans can keep up to date on your work and possibly even purchase your art.
Magali: There are three ways: my Facebook page, updated almost daily; my website, where all of my new stuff is put on display; and Twitter
On my website, I have a good overview of all the things I do for various companies. And it also has a "shop" section showing what's available at the moment. In the coming months, I will add some very special things to it, like some original Magic art. I will also list all available artist proofs.
For the time being, players and collectors can email me directly if they want their cards signed, or buy artist proofs.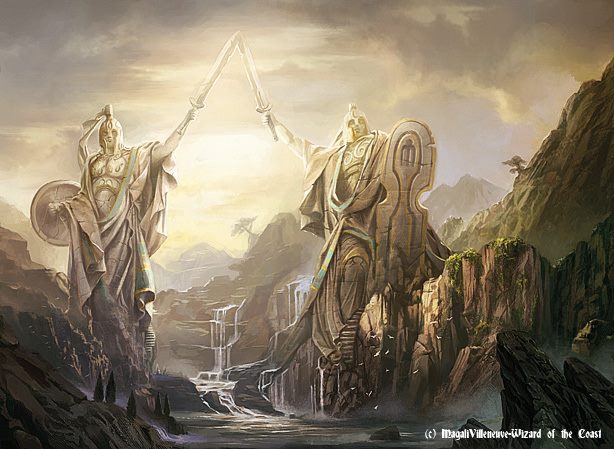 Patrick Scalisi is a contributing writer to Art of MtG. After playing Magic: The Gathering as a child during the Fourth Edition era, he resumed again in the summer of 2012. He currently prefers red and white decks.